Gara-gara en. combat nak membeli Eco Bottle cap Tupperware, maka aku telah meng'signup'kan diri untuk menjadi ahli Tupperware. Bayaran untuk menjadi ahli adalah sebanyak RM60 & akan dapat kit. Content dalam kit bag itu ialah booklet, cds, order form, tupperware paper bag, 3 units of tupperware product & etc.
Sesaja jer join Tupperware nih. Macam lawa-lawa jer product dalam catalogue dia. Hopefully lepas menjadi ahli tupperware, bole beli product dia banyak-banyak & rumah especially fridge pon lebih organised.
Aku join ni pon bukan untuk buat bisnes sangat pon. Tapi aku still amik tempahan pada sape-sape yang nak order product ngn aku. Then aku akan bagi 10% diskaun from the retail price as shown in the catalogue.
Pada member-member yang ingin join untuk jadi ahli pon, aku bole tolong untuk daftarkan. Cuma bayar RM50 je kalo korang daftar ngn aku nih... Untung tak? Aku jadi ahli pon bayar RM60 tau. Tolong kawan punya pasal... No problem!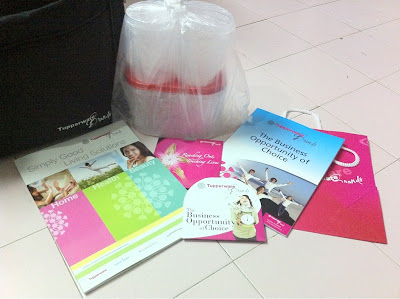 Ni kit for new member! Ada banyak lagi isi kat dalam. Ini cuma sebahagian sahaja...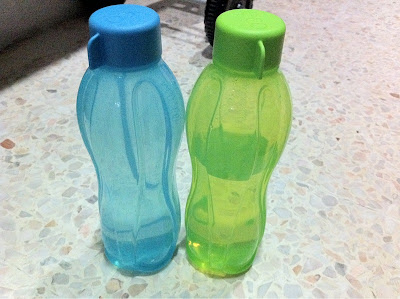 2 Eco bottle aku grab semalam + strap.
Catalogue aku dapat free semalam. 1 keping RM0.50. Tapi amoi tu bagi free 5 keping kat aku...
Lepas ni nak jadi ahli ape pulak ekk?
Kemungkinan aku nak daftar jadi ahli Shaklee sebab product tu serasi dengan aku...