Masa untuk mengepam sudah kembali...
Dah lama aku tak mengepam. Dalam setahun lepas aku tinggalkan aktiviti tu. Mengepam memang memenatkan bila stok susu kais2 jer utk di bawa kerumah pengasuh.
Tapi untuk pregnant kali kedua ni. Aku sudah bersiap sedia awal2. Pam medela FS pujaan hatiku sudah berada dalam genggaman. Maknanya aku bole start mengepam lebih awal dari yang dulu.
Klo dlu, aku beli pump pureen battery operated jer. Aku banned! Tettt! Memang tak selesa dan menyakitkan. Then aku beli plk spectra 3. Not bad jugaklah. Sesuai dengan harganya. Lastly aku beli Medela FS from singapore motherhood forum. Forum kt web tu ada arrange spree utk oversea website. Harga dalam rm1200++ including DHL courier service to Malaysia.
Aku memang recommend pump ni pada member2 yang lain. Even celebrities e.g. Kimora n Kourtney Kardashian pon menggunakan pump ini! Ceh, promote abess ...
Sessi cuci mencuci telah dijalankn malam td. Thanks to en combat yang banyak membantu membasuh botol yang berlambak tu.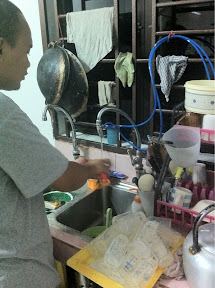 Botol bumble bee yang fit dengan medela.
Spare parts baru wif my little pummpp!
Sessi mengeringkan after sterilize
Ini dia my lil girl on the 4th day. Getting bam-bam wif my milk.
As usual, Syahmi yang sygkn Saffiyah.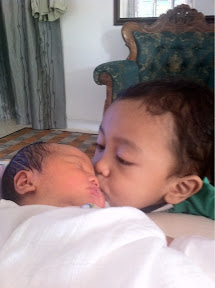 - Posted using BlogPress from my iPhone