Update aktiviti weekend yang lepas. Takde ape yang special. Kiteorang just pg tengok wayang citer Transformer & pastuh lunch kat MFM. Ini 2nd attempt bawak Syahmi pg tgk movie. Dia da kenal dah dengan transformer tuh. Dia sibuk sebut 'robot' or 'fomer'. Sekali dengar macam Keretapi Thomas. Tapi dia ulang lagi. Rupanya yang dia maksudkan ialah Transformer.
Nasib baik aku buat booking online kt TGV Tebrau City coz tiket pada haritu dah sold out even yg 3D sekalipon. Syahmi pulak duduk elok2 jer dalam panggung tu. Tapi dia sibuk tanya mana pintu, mana pintu? Mungkin da gelap dia tak perasan dari manalah orang-orang nih masuk. 1st 1 hour, dia tengok. Pastu dia tidur. Nasib baik dia tak merengek dalam wayang tuh.
Citer Transformer nih lama jugak. Dalam 2jam 30 minit. Start pukul 12, pukul 2.30 baru keluar wayang. Solat-solat then baru pg makan. Memang aku sengaja pilih MFM. Teringin pulak kali ni. En. combat dia muncung sikit. Mungkin sebab kiteorang pernah ada experience yang MFM ni serve lambat. Aiyooo... Tapi kali ni good service. Thumbs up!
Syahmi yang keringan....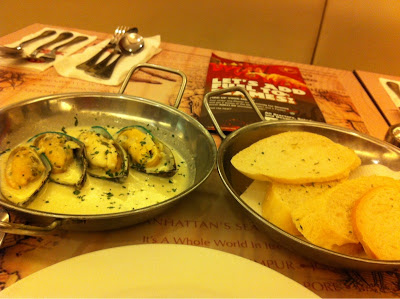 Starter - Garlic Herb Mussel dapat 50% off
Main course - Grill Gala Platter
En. combat yang terpaksa mengalah dengan seleraku...
Tapi dia yang makan banyak sebab aku sibuk suap Syahmi....
Aku & Syahmi...
See Syahmi, Garlic Herb Mussel tu dia conquer sorang jer... Tak padan kecik!
For those yang belum pernah makan MFM tu, pergi lah try makan sebab sekarang dia ada promo set. That means main course mcm Manhattan Flamming Seafood Platter (RM54.90) or Grilled Gala Platter (RM54.90) or Grilled Flamming Lobster Platter (RM110) & other 3 main course tu pon ada free 2 drinks e.g. Seasons Iced Lemon Tea & 2 Mushroom. Kalo dulu xde jual set dengan air. So, kene order asing2. Bila dia dah buat mcmni kira bestlah!
Then side dish e.g. Tuscan Tiramisu, Sizzling Louisiana Prawn, Caesar Salad & banyak lagi, pulak dapat 50% off with every purchase of main course. Memang berbaloi2... More info
here
.