Sekarang tengah mood nak makan western jer. Lebih-lebih lagi makan macaroni & cheese kat kenny rogers. Memang sedap. Rasa nak request lelebih jer cheese oren dia tu. Sebab da bnyak kali try buat tapi tak menjadi. Beli yang instant pon tak sesedap macam kat kenny rogers.
But last week. Member kat opis ni jual cheese powder. Ala-ala cheese yang di tuang pd KFC punye cheezy wedges. So, aku grab 1. Ingat nak makan dengan wedges tp tgk fridge, xde wedges pulak dalam stock. So, lahirlah resepi macaroni yang aku dah manipulate ikut tekak & selera sendiri. Ingat tak sedap... Rupanya sebaliknya.. En. combat siap bertambah2 lagi. Sampai 1 minggu ulang menu yang sama dia tak bising pon.
So, aku share resepi Baked Macaroni & Cheese aku yang marvellous ni...
1 paket macaroni yang sudah di rebus
3 tablespoon cheese powder yang telah di bancuh dengan air suam.
Yang ni pulak campuran ayam, kentang & chicken soup campbell (1 tin)
Ayam di potong kiub & tumis dengan bwg putih, bawang besar.
Masukkan seasoning sauce, oyster sauce, Italian herbs, white & black paper.
Then masukkan air & kentang.
Bila kentang dah empuk, masukkan campbell 1 tin.
Masak sampai mendidih
Layerkan macaroni, cheese powder & campbell tadi.
Aku buat 2 layer jer.
On the top, put dried parsley. (Xde pon xpe)
Last topping with mozarella. Sedia untuk di bakar.
Suhu 170 darjah for 10 min.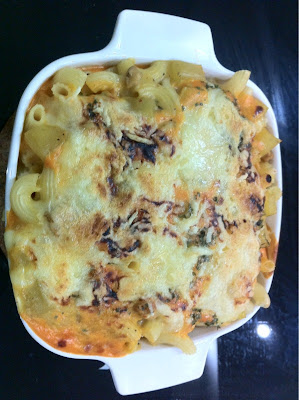 Silalah jamu selera yer...