Dah lama x update tentang syahmi's development. What actually 18 months toddler can do? It's a vast growth as compared 6 months ago when he was at 1 years old.
At this age, no more baby smell on him. I really miss that smell. Da sapu minyak yuyee pon cepat jer hilang. Huhu.. Tapi dia tak masam.. Cium banyak kali pon xper.
As usual, list down ape yang syahmi da achieve at this moment.
1. He can call me Ummi. Memang da lama tunggu saat ini. Even sometime he call me ibu (pengasuh dia). Tersasul kot.
2. He can understand simple instruction e.g. "wash your hand " or "take your diaper"
3. He warn me when the poo-poo or pee time by putting his hand at his 'bird'.
4. He learns many vocabs. Even he can distinguish cat, bird, dog, elephant and his favourite fish!
5. He shows sense of appreciation. When i kiss him, he'll kiss me back. He knows that i love him & i know that he love me too.
6. He can eat himself. Tp berterabur lah sana sini. Semua benda nk belajar buat sendiri.
7. He can walk fast and almost run.
8. He recognise people surround him. Ayah, ibu, atok, cik anis (he says clearly) abang, ummi, cik long & cik uda.
9. He can speaks javanese. When somebody ask "Syahmi kabare? He answered "Waras..."
10. He instantly absorb what come out from our mouth. So jangan cakap sembarangan. Dia bole tiru..
Haha.. What a clever little boy. Ummi doakan syahmi senantisa sihat dan di lindungi Allah ye anak..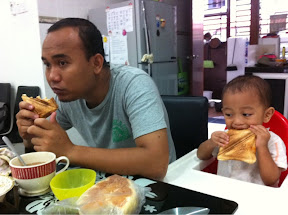 Like father like son. Ye tak en combat?
Makan sendiri
Little photographer
His best buddies. Ikan puyu 5 ekor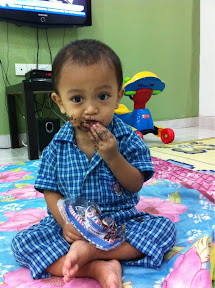 Comot momot
Reading book. Cup & socks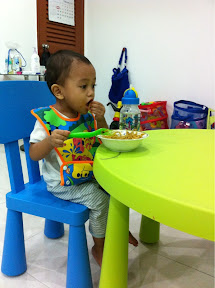 I eat slowly but surely
- Posted using BlogPress from my iPhone