Selepas terfikir-fikir ape nak di beli untuk member opis aku, Puan Erin. So, aku decide untuk beli barang2 & then decor. Browse punya browse, surf punya surf, finally aku terjatuh chenta dengan Diaper Cake ni.
Actually, diaper cake ni mmg meluas di beri pada during baby shower event and kt UK or US memang ni style diaorang bg pada baby baru lahir. Cuma kat Malaysia agak jarang jumpe. Mebbe xde jual kat pasaraya kot. So, ramai orang tak tahu. Yang paling banyak kt JUSCO or any pasaraya ialah baby stuff yang berbalut plastik macam hamper tu.
So, diaper cake is one of the alternatif.
Mari menjamu mata melihat hasil kerja tangan ku... Ambil masa seminggu jugak nak siapkan. Asyik terbantut sebab en Syahmi suka baling2 diaper yang aku dah gulung2 tu.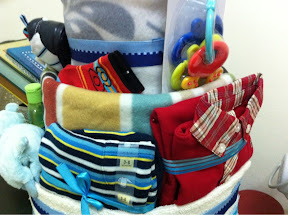 A diaper cake ingredients:-
1 pc Bright Starts License to Drool Rattle
1 pc Bath Towel
1pc Johnson Baby Colonge
1pc Johnson Baby Lotion
1pc Johnson Baby Shampoo
1pc Johnson Baby Powder
1pc K's Kids Wayne Funky Stroller Pal
1 pc Fleece Blanket
1 pc Fleece Blanket
2 pcs Pettanko Chan (Hypo & Monkey)
1pc Romper George Baby Organic
1pc Romper Old Navy
1pc Romper Baby Gap
3pcs Socks
61 pcs Diaper
1 pc GUESS Shoes
Anyone interested? Hehe...
- Posted using BlogPress from my iPhone